Skip to Content
Professional Plumbing Services from Right Choice Rooter
When you want to make the right choice for all your plumbing needs in Rock, Jefferson, Walworth, and Dane county, choose Right Choice Rooter. As a family-owned and -operated business, our family has more than a decade of drain and sewer cleaning experience. We use state-of-the-art equipment and extensive training to ensure the job gets done right every time we visit your home or business. Our team of experienced plumbers and technicians works on residential and commercial sewers and drains. We're confident that we're the right choice for all your plumbing needs in Rock, Jefferson, Walworth, or Dane County.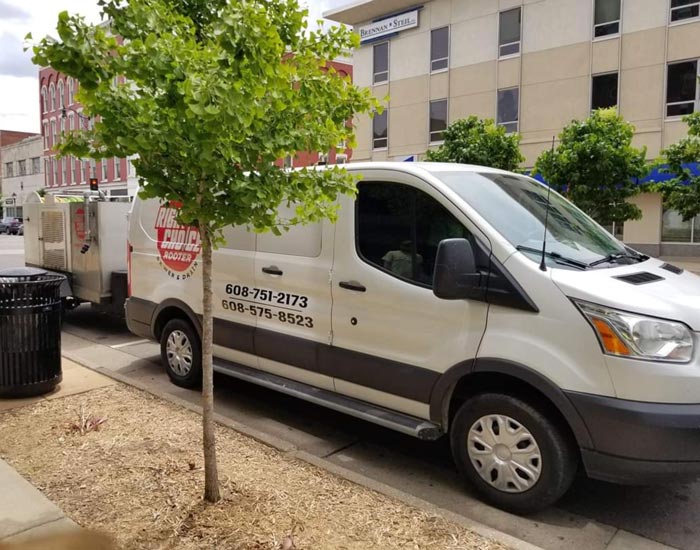 Contact Our Family-Owned Plumbing Company
You don't have to stress about your plumbing problems when you contact the team at Right Choice Rooter. We'll work with you to ensure your satisfaction no matter how large or small your plumbing issue is. We'd love to add you to our list of satisfied customers. Contact us today to schedule an appointment.
Comprehensive Plumbing Services in Wisconsin
No job is too big or too small for our team. From drain cleaning to excavations, we do it all. It's our goal to ensure your plumbing is working correctly and resolve any issues fast with minimal downtime and disruption. Learn more about some of the plumbing services we offer:
Preventative Maintenance
Taking care of your plumbing can save you money and hassle. We offer preventative maintenance services for residential and commercial properties. We use video inspections and hydro jetting to prevent significant problems from occurring in the future.
Hydro Jetting
Using highly-pressurized water is one of the most effective ways to clear out tough clogs. We can clear out grease, sludge, sand, and other debris from sewer and drain lines. Hydro jetting keeps your pipes clean and clear and is an excellent form of preventative maintenance.
Excavations & Underground Repair
We'll determine whether repairing or replacing your sewer and drain lines is the best course of action. We perform traditional excavations for commercial, industrial, and residential properties.
Drain Cleaning
We clean and clear drains for homes and businesses. We'll get your floor drains, shower stalls, sink drains, or parking lot drains flowing clearly. We also repair backed-up sewers, frozen pipes, toilets and urinals, plugged-up sinks, showers, and tubs, clogged kitchen sinks or laundry tubs, and more.
Video Inspections
It can be challenging to tell what's going on inside your pipes, but video cameras make the task easy. We use the latest technology to visually inspect and diagnose your sewer lines and underground pipes. This service is also valuable for home inspections, retrieving lost items, and inspecting septic systems.
Contact Us for Professional And Reliable Sewer & Drain Services