Skip to Content
Excavation & Underground Repair
Plumbing Excavations & Underground Pipe Repair in Janesville, Fort Atkinson & Surrounding Areas
When you have a serious sewer line problem, you need to call in a team of plumbing professionals you can trust to get the job done right. Right Choice Rooter specializes in excavation and underground repair services for plumbing and sewer pipes at your home or business in Rock County, WI and surrounding areas. No two plumbing situations are exactly the same. Our experts will take the time to thoroughly diagnose your issue and create a customized solution. Sewer line problems require repair or replacement, and no job is too big for our team. Learn more about our excavation and water line repair services and contact us to schedule service.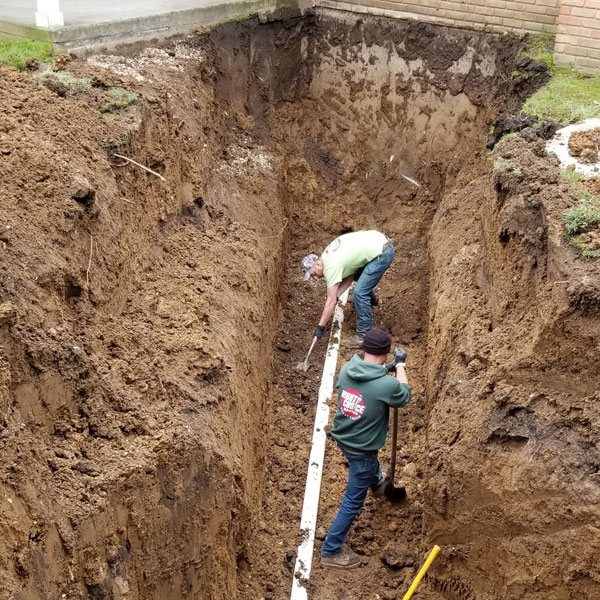 Professional Plumbing Excavation Services
When repairing a sewer line isn't a viable option, excavation services are necessary to replace the line. We don't take these services lightly and will only replace the line when there's no possible way to repair it. Thankfully, there's more than one way to repair a broken sewer or drain pipe. Services we use include traditional excavation. Our experienced excavation staff performs commercial, residential, and industrial excavation services in Rock, Jefferson, Walworth, and Dane County. We offer scheduled service and are available for emergencies. We understand that no one likes to have their property dug up, but sometimes it just has to be done. We'll do our best to minimize disruption to your home. While having your yard or property dug up is no fun, it's sometimes the most effective way to solve significant plumbing issues.
Trust Our Underground Pipe Repair Professionals
Excavation is not always necessary. Our team can provide water line repair and service in the event that your home or business has a damaged water line. Some common signs that you may have an issue include a drop in water pressure, discoloration of your water, or an area of your yard that's consistently wet. Our experts can diagnose your water line problems and offer underground water line repair services. We use non-invasive methods to replace old pipes in a timely manner while preserving the cleanliness of your property. You can trust Right Choice Rooter for the expert excavation or underground pipe repair services you need.
Contact Us for Professional And Reliable Sewer & Drain Services