Skip to Content
Video Camera Inspections for Sewers in Janesville, Fort Atkinson & Surrounding Areas
One of the most effective ways of knowing what's in your plumbing's pipes and sewer lines is a video inspection. The team of experienced plumbing professionals at Right Choice Rooter uses the latest technology to perform sewer camera inspections for homes and businesses in the Dane County, WI or surrounding areas. Video cameras are one of the most valuable tools our plumbers can use. Our waterproof plumbing cameras allow our technicians to visually inspect your sewer lines and underground pipes that are impossible to inspect with the naked eye. Our professionally trained and skilled plumbers insert a rod with a high-resolution video camera attached to your sewer lines. The cameras are flexible and can travel through twists and turns inside sewer lines. Video footage is then transmitted to our technicians in real-time, so we can assess the damage and create a customized plan of action for remedying it.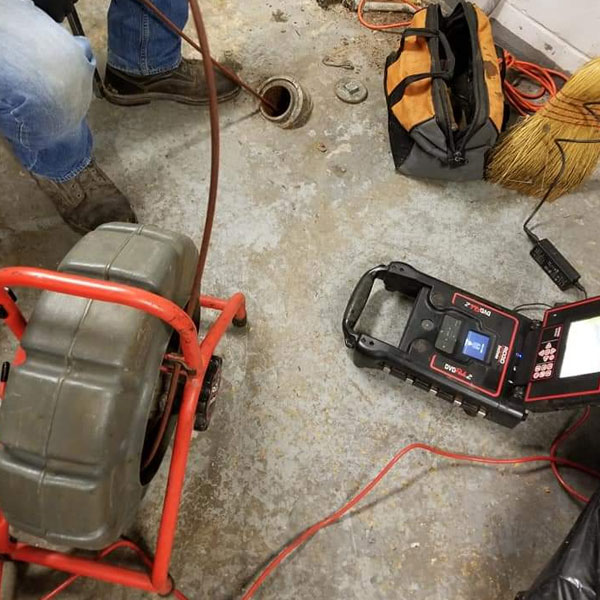 Schedule Your Drain Camera Services Today
Take the guesswork out of your plumbing problems. Sewer camera inspections record the depth and physical location of any obstructions or defects in your drain line. This allows our professional plumbers to accurately diagnose the problem and come up with the most effective solution. We recommend a sewer camera inspection if you have repeated sewer or drain line backups, clogs, or slow drains. If your water bills have increased unexpectedly, a video inspection is also a good idea. Allow us to use our sophisticated, waterproof video cameras to see precisely what's going on in your residential or commercial plumbing pipes in Rock, Jefferson, Walworth, or Dane County.
The Benefits of Plumbing Video Inspections
Plumbing video inspections are accurate, affordable, and non-invasive. Having your pipes inspected is the only surefire way to know what's going on inside them. Whether there's currently an issue with your plumbing or you want to be proactive, video inspections are the solution. Having your pipes inspected now can help you rest easy and know exactly what condition they're in. You can save money and hassle by preventing significant problems from occurring down the line. Plumbing video inspections can also be used for the following important reasons:
Home Inspections
If you're buying a home, you'll want to have a video inspection performed to ensure you aren't inheriting plumbing problems.
Retrieving Lost Items
You don't have to panic if you've lost a valuable or sentimental item down the drain. A video inspection can help you locate the missing item, and our team has retrieval methods available.
Inspecting Septic Systems
Monitor the health of your septic system with our video inspections. We'll let you know if you need repairs or maintenance.
Remodeling Inspections
Make sure your plumbing system is able to withstand new additions and increased waste before you add a bathroom to your home or remodel your kitchen.
Contact Us for Professional And Reliable Sewer & Drain Services