Skip to Content
Effective Hydro Jetting Services in Janesville, Fort Atkinson & Surrounding Areas
When you need to get the job done right, call in the professionals at Right Choice Rooter for high-pressure water jetting services. Hydro jetting can clear out tough clogs better than any other method. Our team of experienced and professional plumbers begins by carefully assessing your drain line so we can determine if hydro jetting is the best option for you. We can help whether you run a restaurant and deal with a lot of greases or have a particularly tough clog at your home. Hydro jetting uses high-pressure water to clear your drain line of sludge, sand, and other debris. It can also penetrate grease, pulverize roots, cut out a hardened scale, and flush out your system. Learn more about our professional hydro jetting services and get in touch with us to schedule service.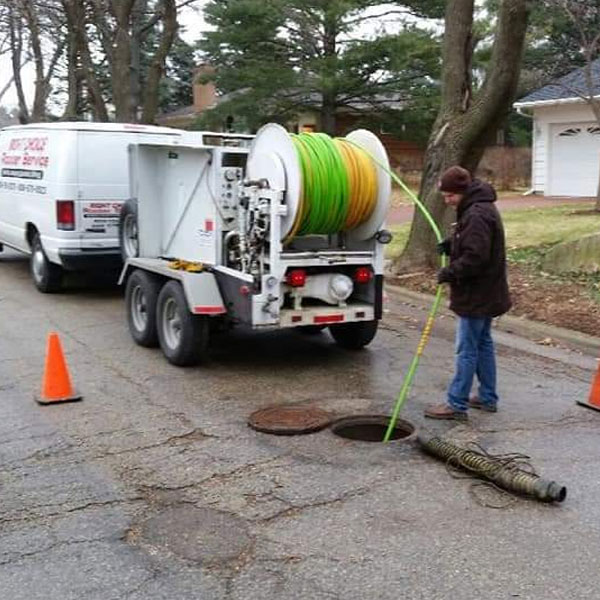 The Advantages of Our Hydro Jetting Services
Right Choice Rooter uses highly pressurized water to break up the debris that's clogging your drain. Hydro jetting is sometimes used as a last resort because it unclogs just about everything. While plumbing snakes can poke holes in sludge, hydro jetting completely removes it to leave your pipes squeaky clean. Hydro jetting is non-invasive and requires no digging. The process is also safe, with no chemicals required. Hydro jetting is environmentally friendly because it only uses pressurized water. This method can even break up smaller tree roots, which are one of the leading causes of broken sewer pipes. Hydro jetting is not a DIY project, so make sure you leave it to our professionals.
Contact Our Team for Regular Water Jet Maintenance Services
While hydro jetting is useful when other methods don't get the job done, it's also an excellent preventative maintenance measure. Hydro jetting your sewer line regularly can keep your pipes clean and clear. Regular water jet maintenance keeps drain lines flowing and minimizes potential problems. Hydro jetting may not be ideal if your home or business has frail, older pipes. Factors that affect your hydro jetting cost include the condition of your pipes, the location of the sewer cleanout, and whether or not you need a camera inspection. Right Choice Rooter is proud to offer hydro jetting services for home and business owners in Rock, Jefferson, Walworth, or Dane County.
Contact Us for Professional And Reliable Sewer & Drain Services